Jimmy Kimmel is at the top of his game right now.
One day after White House Press Secretary Sean Spicer compared Adolf Hitler favorably to Syrian President Bashar al-Assad during a briefing, Jimmy Kimmel Live! allowed viewers to hear what must have been running through his mind in that moment.
Kimmel poked fun at Spicer's former stint during the Bush Administration as the Easter bunny during the annual White House Easter Egg Roll.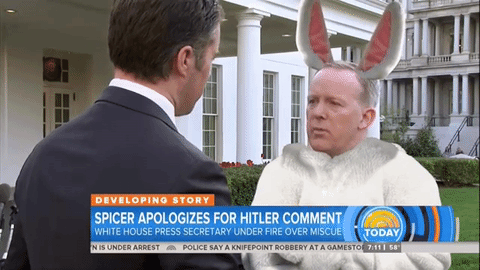 In an edited clip, Jimmy Kimmel Live! showed Spicer apologizing for his controversial comments about Adolf Hitler and the Holocaust — but dressed as the Easter bunny.
"This week, for the first time in maybe history, we got to see the Easter bunny apologize for comments about the Holocaust," Kimmel said before he aired the clip.
"How can you be mad at somebody so cute? It's impossible," Kimmel said of Spicer. "He would kill to have that job back right now."
Earlier this week, Spicer falsely claimed Hitler did not use chemical weapons on his people during World War II. Spicer has since apologized for his comments, which set off a widespread backlash.
Watch the video above.
SaveSave